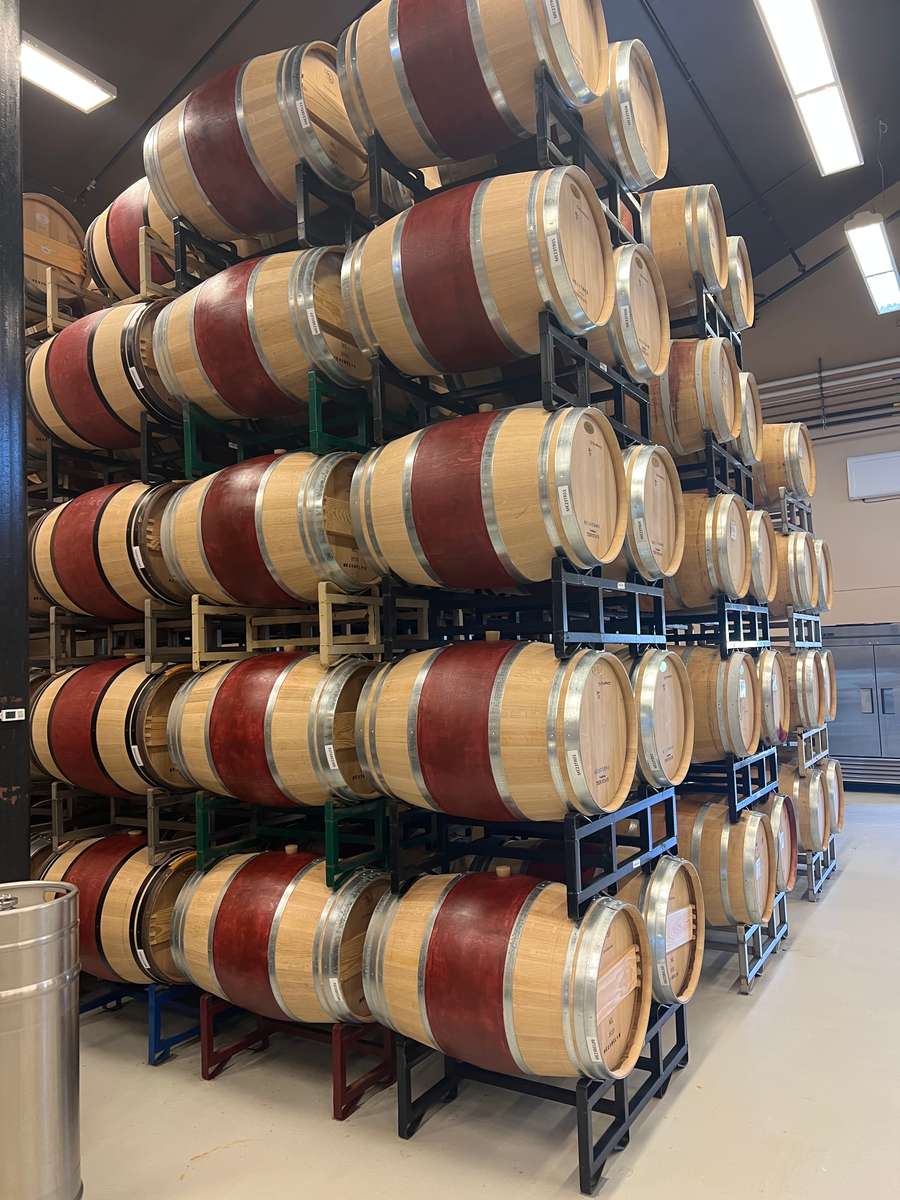 Foley Barrel Room
Day 6 in Napa
Day 6 in Napa greeted us with a familiar briskness and a cool marine layer enveloping the valley. However, just like the previous days, the sun soon emerged, casting a warm glow over the picturesque landscape. To start our day off right, we enjoyed coffee from a local barista and sipped on a refreshing chilled rosé, thankfully Joe prepared a delicious breakfast (using last night's leftovers) for the team. Our spirits lifted, and our bodies nourished, preparing us for another exciting day ahead.
Chris took the wheel as we loaded up the van and set off for the esteemed Foley Johnson Winery. Once again, Aaron, our trusty concierge, warmly welcomed us and offered us a taste of their exceptional estate Sauvignon Blanc. Aaron, with his wealth of knowledge, educated us on the wine, the history of the property, and introduced us to the head winemaker, Michael Beaulac.
Michael shared fascinating insights into the late harvest, informing us that just a day earlier, they had picked their Sauvignon Blanc grapes. Using a new bladder press, the juice had been allowed to settle, giving us the unique opportunity to sample the grape juice before the fermentation process began. It was a truly special experience that deepened our appreciation for the winemaking process.
We continued our tasting journey, sampling the various offerings of Foley Johnson wines, including the exceptional Kaleto Cabernet Sauvignon. The property itself was breathtaking, nestled in the heart of the valley, surrounded by stunning vineyards. And once again, corn hole and bocce ball for our physical activities and friendly competition. .
Bidding a farewell to Foley Johnson, we ventured to the infamous Gott's Roadside for lunch. We indulged in the double cheeseburgers, tuna burgers which were accompanied by garlic fries, sweet potato fries and onion rings. Some of us opted for PBR's, while others stuck with Sauvignon Blanc, ensuring that everyone's preferences were catered to.
Our next destination was Silverado Winery, where we were once again greeted by our knowledgeable wine concierge, Aaron. He shared with us that this breath taking vineyard was the newest addition to the Foley Family Wine portfolio. We learned about the rich history of the property, originally built by the Disney Heirs, adding an extra layer of education to our visit. While the winery was closed for the day, Aaron was able to open for just our group. And like Foley Johnson, we had the distinct opportunity to meet Allison Rodriguez the head winemaker for Silverado Vineyards. To our delightful surprise, we bumped into Bob & Browyn Jenkins, Ivan & Kim Valdes, Suzanne, and their travel companions - good friends from New Smyrna Beach. It was a awesome coincidence that added an extra layer of camaraderie and times to NSB for this Napa adventure. As the day drew to a close, we decided to wrap up with a homemade taco bar. Our culinary team worked their magic, using fresh local ingredients to create a delectable feast. Lime-marinated flank steak, chili-marinated chicken and shrimp, along with an array of fresh salsa and guacamole, satisfied our taste buds and left us feeling content and grateful for the culinary delights of Napa. Unfortunately, this marked the last day for the general managers and their spouses. Tomorrow, they would be returning home, but on the bright side, our culinary team would be arriving soon, ready to continue our gastronomic journey through Napa. Stay tuned for more adventures and delectable delights to come!