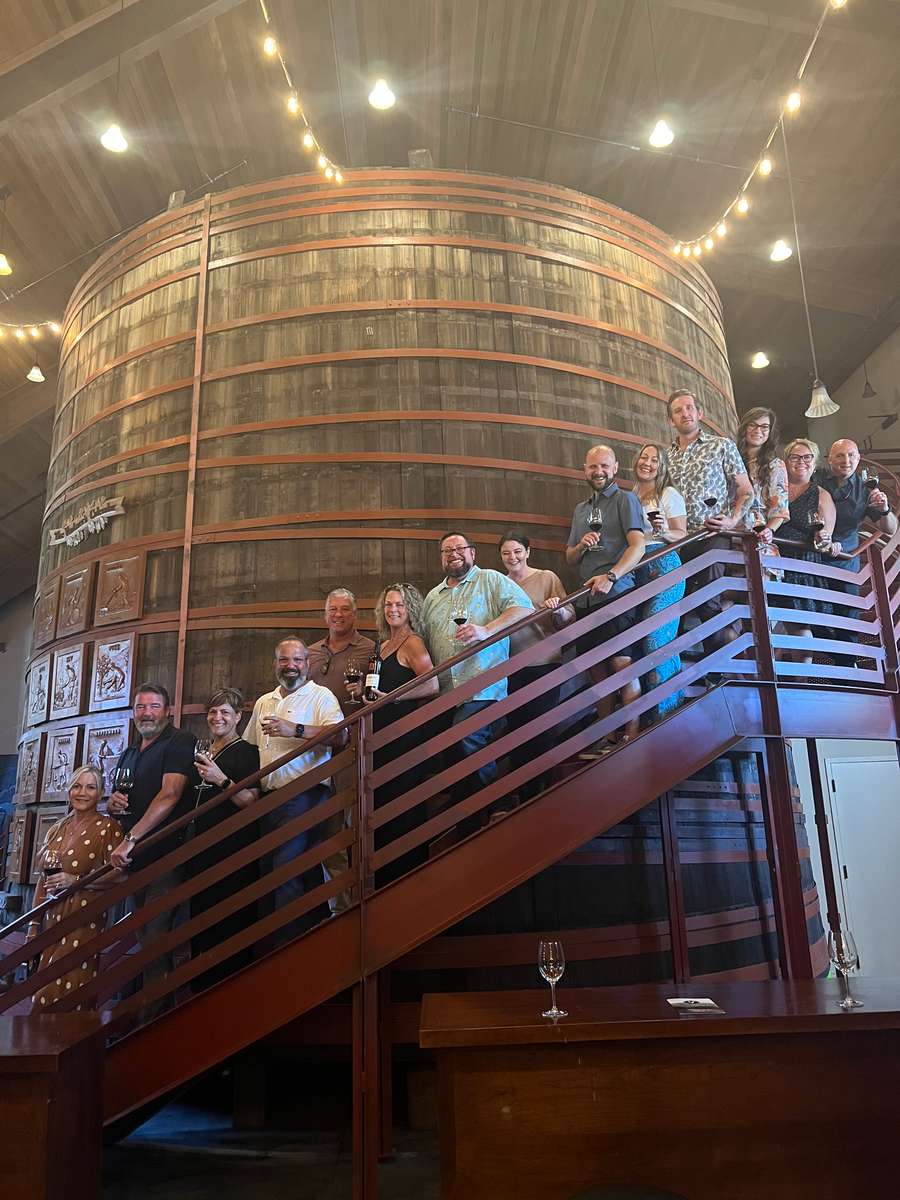 Sebastiani
Day 5 in Napa.....actually Sonoma
Day 5 in Napa…Sonoma
Day 5 was another incredible day filled with delicious food, beautiful vineyards, and unforgettable wine tastings. The morning started off with a refreshing temperature in the high 50's and a thick layer of fog covering the valley, creating a magical atmosphere, only to burn off by the time of our first tasting.
To kick off the day, we made a well-timed trip to Model Bakery for some breakfast sandwiches, accompanied by fresh coffee and perfectly crafted Bloody Mary's. It was the ideal fuel to energize us for the day ahead. We loaded up the van with our General Managers (Eddie, Nick & Brandon, along with spouses), then embarked on our journey to the iconic Sebastiani Winery, located in Sonoma.
Upon arrival, we were warmly greeted by Aaron, our knowledgeable concierge. Our team was treated to the 2019 Sebastiani Cherry Block, which we savored while indulging in juicy grapes right in the Cherry Block vineyard. The flavors were exquisite, and were then treated to samplings of the 2017 and 2018 Cherry Block vintages. Surprisingly, our group was evenly split when it came to choosing their favorite vintage - a testament to the exceptional quality of each.
Reluctantly saying goodbye to Sebastiani, we hopped back into the van and headed to Chateau St. Jean, also nestled in Sonoma County. Aaron, once again, warmly welcomed us and surprised us with a delightful sparkling wine. As we sipped on this bubbly delight, Aaron shared fascinating insights into the history of the property and the stunning vineyards surrounding us. Lunchtime arrived, and we were treated to a delectable meal on the patio, accompanied by a collection of superb wines from Chateau St. Jean. The pinnacle of this experience was the Cinq Cepages 2017, a wine that had been rated the top in the world for the 1996 vintage. It truly lived up to its reputation, leaving our taste buds in awe.
After team bonding in more games of corn hole and savoring the charming atmosphere of Healdsburg, a quaint town in Sonoma, we took some time to explore the shops in the town square. The day was far from over, as we had a dinner reservation at the newly opened Goodnights Prime Steakhouse. Goodnights Prime Steakhouse proved to be an exceptional dining experience, and we were fortunate enough to have Chef David Lawrence personally check on our group. The food was exquisite, and every bite was a true delight.
As the sun began to set, we bid farewell to Healdsburg and embarked on our journey back to the villa. We drove from north Sonoma, crossing over the mountains to Calistoga, and then made our way along the scenic Silverado Trail, finally reaching our home base.
Day 5 in Napa was a day to remember. We immersed ourselves in the beauty of vineyards, tasted the finest wines, indulged in delicious food, and made memories that will last a lifetime. Stay tuned for more adventures in the captivating world of wine country. Thank you to Kimi Braddock of Foley Family Wines and Andy Smith of SGWS for hosting another amazing day for the SoNapa Grille team.