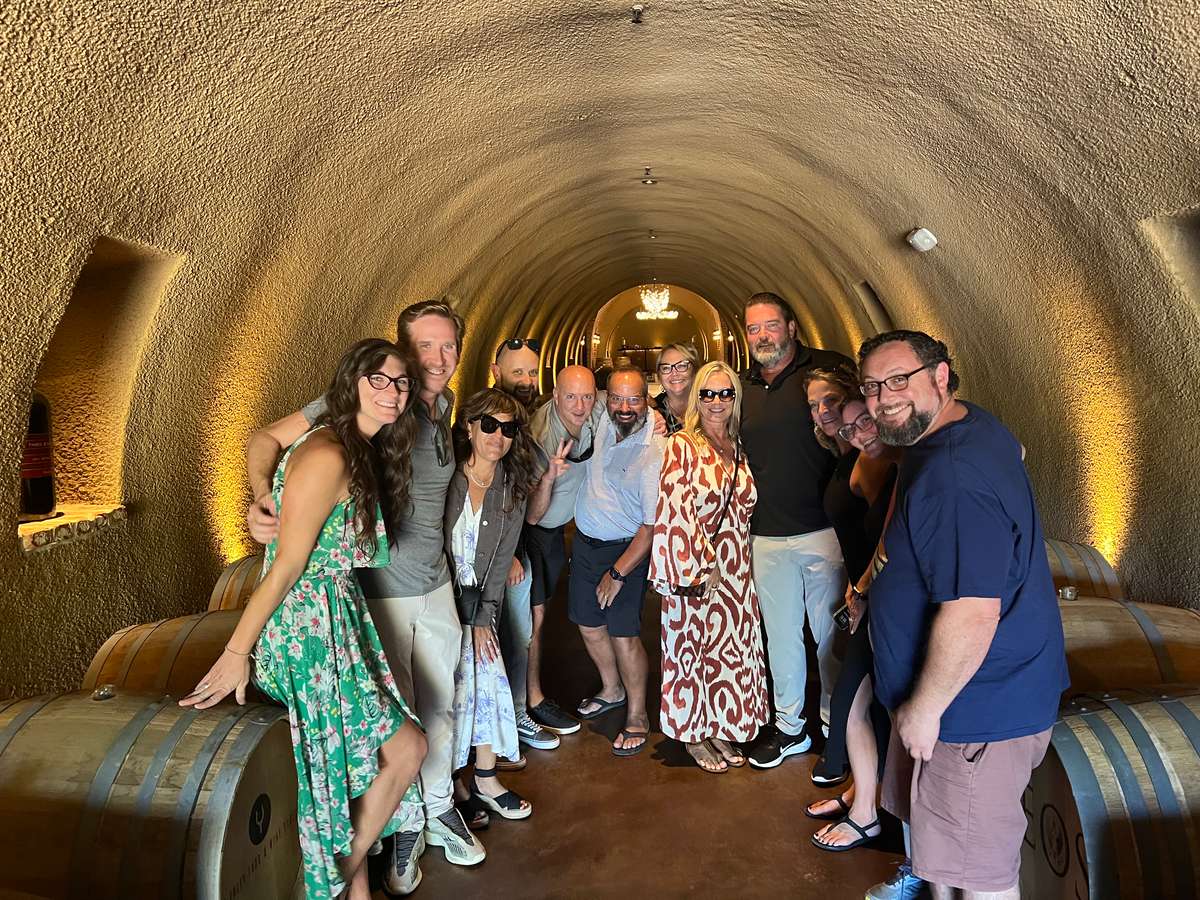 Roth Cave
Day 4 in Napa....actually Sonoma
Day 4 in Napa…it was actually our 4th day and we spent it in Sonoma
Day 4 of our adventure in wine country was filled with excitement, laughs, and of course, fantastic wine! Our day started off with a comical mishap involving the Black Rifle coffee. Joe, always the adventurous soul, managed to miss the filter and forgot to put the lid on the coffee pot, resulting in coffee spillage on the counter not once, but twice. Luckily, Kim Braddock came to the rescue and cooked frittatas using farm-fresh eggs, local produce, and some delicious ingredients from the Model bakery.
As we stepped outside, we were greeted by a pleasant coolness in the air, with the valley covered in a magical marine layer. It was the perfect weather for our wine exploration adventure! Our driver arrived promptly at 9 am to take us away to the Ferrari-Carano Winery, located in the Dry Creek AVA. Upon arrival, we were warmly welcomed by Aaron, our knowledgeable and friendly concierge for the day, who wasted no time in offering us a glass of their exquisite Sauvignon Blanc.
The day only got better as the marine layer burned off and we embarked on a tour of the winery's beautiful gardens, immersing ourselves in the captivating scents and vibrant colors. We then entered the grand estate, where we were treated to an array of amazing wines. Amongst them, the Prevail Cab Franc, Cabernet blend stole the show with its rich flavors and smooth finish.
Our next destination was Chalk Hill, a stunning winery that left us in awe. We indulged in a delightful lunch at the equestrian center, overlooking the vast 1300-acre estate. As we savored the flavors of their Sauvignon Blanc, Little Patch Chardonnay, Syrah, and Malbec, we couldn't help but appreciate the beauty around us. The highlight of our visit was a tour of the property, where we were treated to breathtaking views from the overlook. After a quick ride across the street, we found ourselves at Roth Vineyards, ready for another round of tastings. This time, our concierge Aaron surprised us by setting up a game of corn hole right in the caves, surrounded by wine barrels. As we sipped on their excellent wines, I declared the Roth Alexander Valley Reserve Cab as a personal favorite, providing some much-needed consolation as Joe and Andy seemed unbeatable in corn hole. Full of wine and good times, our expert driver made sure we safely reached the Hedgeside villa, where we had time to freshen up and get ready for a memorable dinner. We had a reservation at the esteemed Charter Oak, and let me tell you, it was an experience to remember. The pre-set menu, specially crafted for our group of 14, was an absolute delight, leaving us in awe of the culinary skills on display. Our server, Justin, was incredibly knowledgeable and skillful, adding an extra touch of sophistication to the evening. Our driver once again chauffeured us back to the villa, marking the end of our fourth day in Sonoma County and Napa Valley. With memories of laughter, breathtaking scenery, and exceptional wines, we eagerly anticipate what today will bring!