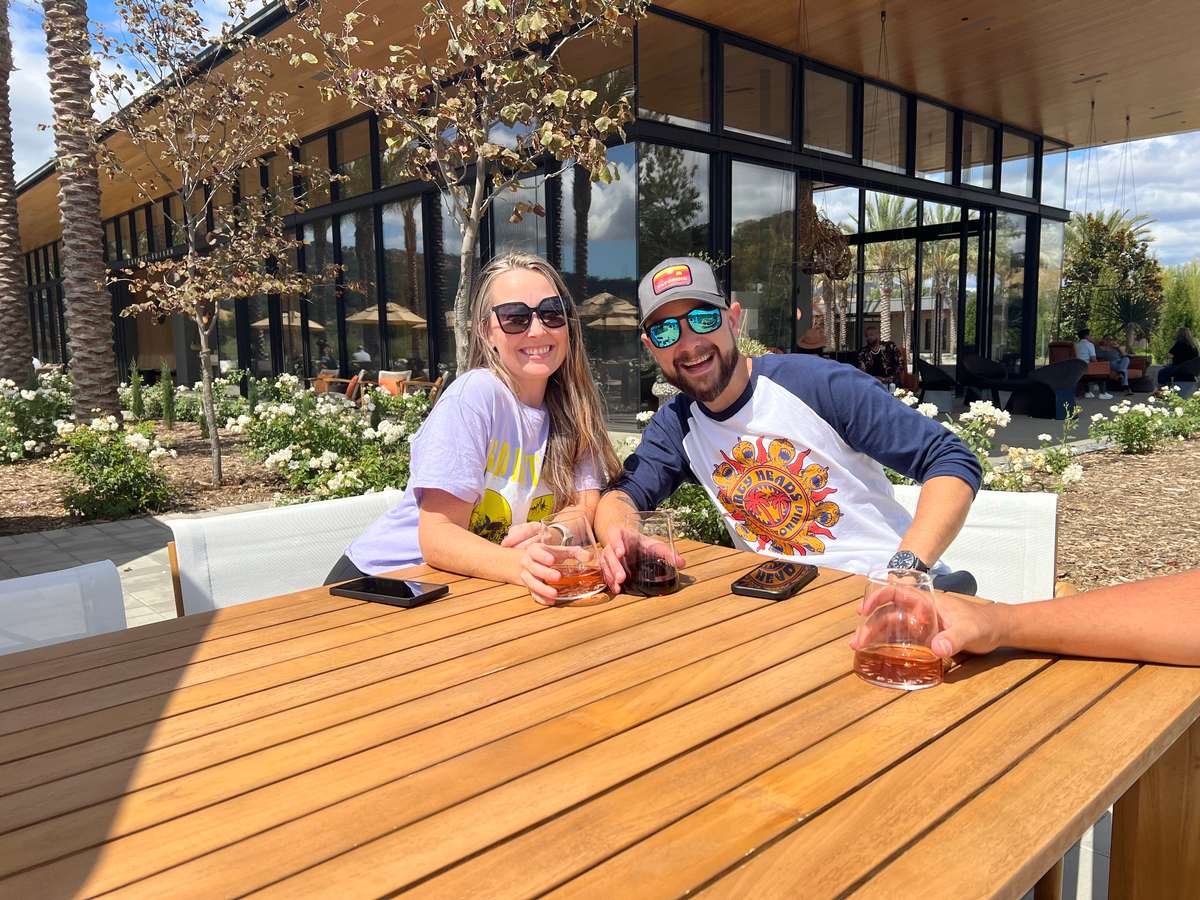 Nick & Brit
Day 3 in Napa
Day 3 in Napa
Our was a day filled with adventure, relaxation, and wine. We started our day settling comfortably into the Hedgeside Villa, a haven nestled amidst vineyards. The house boasted not only a comfortable living space but also a heated pool and a tennis court, offering us the perfect blend of indulgence and recreation. As the sun began to burn off the fog, Chris and Jenn kick-started their day with a morning workout, while Joe and Sabine, on the other hand, engaged in a friendly game of tennis while Shannon and I opted for a lazy start, sipping Black Rifle coffee.
Meanwhile, Kim and Andy embarked on an extraordinary hot air balloon ride, followed by a drive through Coombsville. The breathtaking views of the vineyards and rolling hills were nothing short of awesome.
In the afternoon, Joe and I hopped into the event van and made our way to Sacramento airport to pick up our general managers and their spouses. The arrival of Eddie & Killian from New Smyrna Beach, Nick & Brittany from Ormond Beach, and Brandon & Jamie from Jax Beach added an extra set of fun to our group. The scenic route from the Hedgeside House took us over the mountain range, treating us to awe-inspiring vistas of Suisun Valley. On our way back, we made a necessary stop at the new Caymus facility.
Back at the Hedgeside House, we embraced the spirit of competition and camaraderie. We played several games of basketball in the heated pool. After ball, we shucked fresh oysters, and then embarked on a culinary adventure, crafting an unforgettable Italian dinner using the finest farm-fresh ingredients. As the evening settled in, we gathered around the outside fireplace, wine glasses in hand, and stories flowing freely.
Day 3 in Napa Valley was a beautiful blend of relaxation, exploration, and togetherness. From the exhilarating hot air balloon ride to the shared meals and stories, every moment was a celebration of life's simple pleasures.